Home Page
Dorchester Town Council
Dorchester Town Council is the parish authority for the county town of Dorset, and was created in 1974.  There has been a history of local government in the town dating back to Anglo Saxon times and Dorchester has been the county town since 1305.  It has elected a mayor since 1629.
The town has a population approaching 20,000, which is growing quickly with the expansion of Dorchester at Poundbury and Brewery Square.  The Town Council provides a range of community and recreational facilities, and promotes the town's interests with the other statutory bodies that operate in the town.
The Town Council has 20 members, elected for a period of 4 years.  The next elections are in May 2019.  The Mayor, who also acts as Chairman of the Council, and the Deputy Mayor, are elected annually by the Council each May. 
Mayor of Dorchester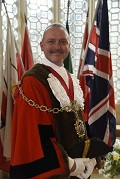 In May David Taylor was elected as Mayor for the town.  First elected to the Council in 2011 he has also served on West Dorset District Council since 2015.
He has lived in Dorchester since 1997.  Having had a career in catering and retail he currently works as a Playworker at Manor Minors and Ossie All Stars Out of School Club, a job he loves.  His focus for the year is on community needs, particularly support for those who suffer from issues associated with drugs, debt, family and mental and physical health.      
David will fundraise for four organisations during the year - Dorchester Youth Club, Keep 106FM, HomeStart and MIND. If you would like to read Councillor David Taylor's speech which was read at the Mayor making ceremony please click here.
David will be supported by Martin Shepherd, as Mayor's Consort, with Councillor Susie Hosford as Deputy Mayor. If you would like to invite the Mayor to an event that you are organising please click here to download a Mayoral Engagement Form. Alternatively please contact the Mayor's Secretary, Georgina Wakely. For a list of the Mayor's engagements for the forthcoming week please click here.
---
JOB VACANCY
Head Gardener - Dorchester Borough Gardens
Salary as at 1 April 2019    SCP 21 -£21,166 per year  37 Hour Week
Click here for a complete application pack for this exciting position. If you would like an informal discussion about this job please contact Carl Dallison, Outdoor Services Manager on 01305 266861 or by email c.dallison@dorchester-tc.gov.uk.    Closing date for applications is noon on Tuesday 23 April 2019. 
Elections to the Town Council
Elections to the Town Council will take place on 2 May, with 20 Councillors being elected across 5 wards.  Click here for an explanation and map of the ward arrangements and for a list of candidates for each ward. 
Dorset Council elections take place on the same day.  For more information about Dorset Council elections and registering to vote click here.
---
Dorchester's Corn Exchange has it's own website which can be found at www.dorchestercornexchange.com